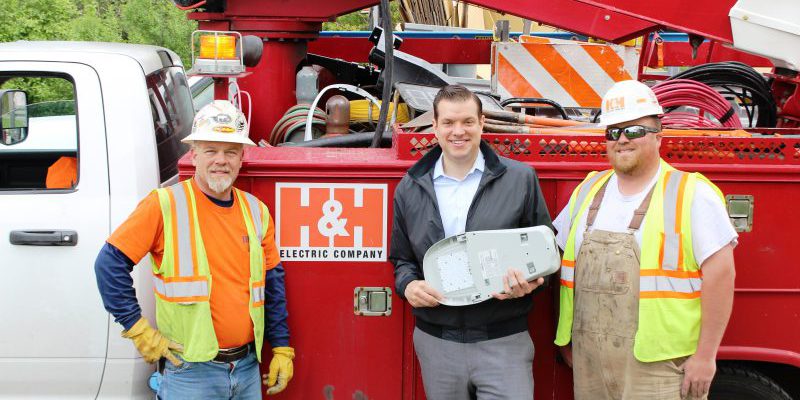 The Village of Lyons recently completed the installation of new LED lighting to all of the Village owned and operated street light fixtures. Mayor Getty said that the new LED lights provide a brighter White Light, as compared to the dimmer yellow lights of the old light fix­ture systems, and will also result in a significant reduction in elec­tricity costs to the village.
"The LED lights are also more ef­ficient, require less maintenance and less electricity and that means a huge savings of more than 60 percent of past costs, which is a savings to taxpayers," Getty ex­plained.
Getty said that the replacement process began at the end of April and was completed in early June at a cost of about $160 per light fix­ture. The Mayor said that the low-wattage LED light system has several light sources so that when something goes wrong, they still provide light. "From a community safety standpoint, these new LED lights are very important," noted Village of Lyons Police Chief Jim Keating.
"The old lights were dimmer and unreliable. When they were dam­aged or they broke, they were out until they were replaced," Keating said. "The new LED lights are brighter and give everyone a clearer view, from motorists to our police who are continually patrolling our neighborhoods and streets."
The contract was awarded to H&H Electric. A majority of the costs will come from a $100,000 grant from the Illinois Department of Commerce and Economic Op­portunity. Lights not owned or operated by the Village are not included in the upgrades to the LED lighting system. The old fixtures required high maintenance and were con­stantly having problems, Village officials said, especially during power surges during summer months.
This whole project was a win, win," said Mayor Getty.